Creating Envelope Deformation Rigs
Before adding deformations, you might want to use a default type of region of influence. You can set these parameters in the Rigging tool's properties—see Deformation Toolbar.

How to create an Envelope deformation rig
Once your element is selected, select the Rigging tool in the Deformation toolbar.
In the Tool Properties view, enable the Envelope mode.
In the Tool Properties view, enable the Automatically create a group when creating a new deformation rig option so that your deformation chains are created inside groups. Every point in a deformation chain is an individual layer, so creating deformers with this option disabled is liable to clutter your Timeline and Node view.
Place the cursor where you want to start creating your envelope.
Press and hold the mouse button to create the point, then drag to towards the direction where you want your curve to bend to set the position of this curve's Bezier handle, just as you would when drawing a curve using the Polyline tool—see Creating Vector Shapes with the Polyline Tool.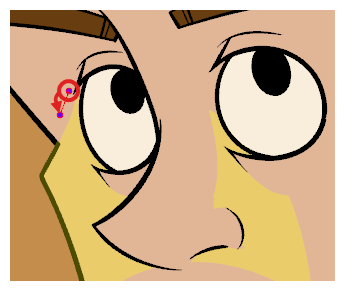 Press and hold down the mouse button to create another point, then drag backwards and release the mouse button to create the Bezier handle before that point.

NOTE The Bezier handle after the point will be symmetrical to the Bezier handle before the point.
Repeat to create other points.

As you go, you can click and drag on the Bezier handles to adjust the curves of the envelope.

TIP

When manipulating a Bezier handle, by default, the opposite Bezier handle for the same point will rotate in the same direction, keeping the point curved. If you want to make the point into a corner, press and hold the Alt key, then click and drag on one of the Bezier handles to rotate it without affecting the opposite handle.

Create every other point needed, until you're ready to close the envelope.

When you're ready to close Envelope deformer, hold down the

Alt

key and click on the first point of your deformation chain.