Creating Pencil Presets
T-LAY-002-002
You can create your own custom pencil presets.

How to create a pencil preset
In the Tools toolbar, select the Pencil, Line, Ellipse, or Rectangle tool.
Configure your brush to be exactly how you wish to use it in the future—see Creating a Pencil.
In the Tool Properties view, click the New Brush button.
The New Preset dialog box opens.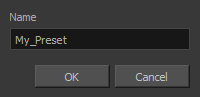 Type in a name for your new pencil thickness stencil and click OK.