Editing Markers
T-SBFND-009-019
Once a scene marker is created, you can modify the duration of the marker, modify its colour, apply a note to identify it, or move it.
The following image is an example of an edited marker:


How to edit a marker
In the Timeline view, select a marker.

Do one of the following:

Select Storyboard > Markers > Edit Marker.
Double-click on the marker.
Right-click in the frame counter area and select Edit Marker.
The Marker dialog box opens.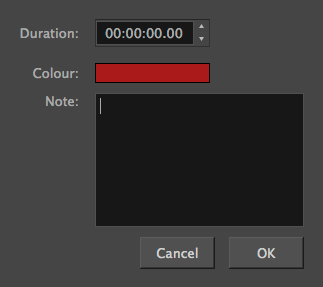 Make your changes.
NOTE

For more information on the Marker dialog box parameters, see

Marker Dialog Box

.
Click OK.