Radial Zoom Blur Dialog Box
T-SBADV-007-007
The Radial Zoom Blur effect creates blurs around a centre point, simulating the look of a zooming or rotating camera.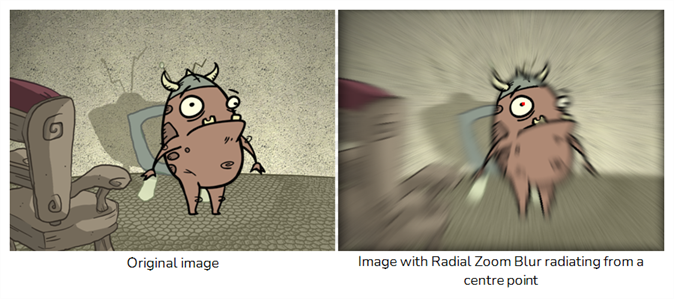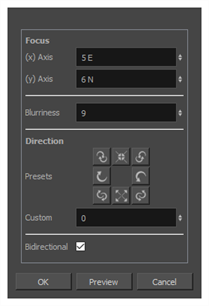 How to access the Radial Zoom Blur dialog box
From the top menu, select

Layer > Apply Effect > Radial Zoom Blur

.
In the Camera or Stage view, right-click on the layer you want to apply the effect to and select Apply Effect > Radial Zoom Blur.
Parameter
Description

Focus

(x) and (y) Axis

Lets you set the x and y coordinates individually for the centre.

Blurriness

Amount of blur applied to the layer.
Direction

Presets

Lets you select preset blur types. A set of preset radial, zoom, and spiral blurs are available to get you started. You can then adjust the type to customize the blur.

Custom

Lets you select a custom blur direction. Create your own blur by entering a value for the direction of the blur lines.

Bidirectional

Applies the blur on both sides of the pixel.
Preview

Generates a preview of the effect on the actual artwork using the current values. This can be done as many times as needed.