List Picker Dialog Box
The List Picker dialog box lets you select specific captions for export to a PDF document.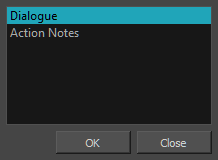 For tasks related to this window, see About Exporting to Portable Document Format (.pdf).

How to access the List Picker dialog box
In the Panel PDF Options dialog box, make sure the Export All Captions option must be deselected, then click the Browse button in the Caption List field.