Deforming a Drawing Using the Perspective Tool
T-SBADV-005-012D
When drawing on vector layers, the Perspective tool enables you to deform a drawing selection and alter its perspective.

How to deform a drawing
In the Tools toolbar, select the Perspective tool.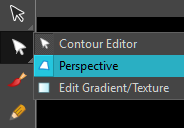 In the Stage view, select the drawing you want to deform.
Click and drag the different anchor points to deform the shape.