Copying Artwork on Multiple Panels
T-SBFND-008-017
When developing the panels for a scene, you sometimes need to add elements to a layer after you have completed the drawing and use it across several panels. For example, you may want to modify the drawing for the background layer used in multiple panels.

How to copy artwork on multiple panels
In the first panel, select the layer that contains the artwork to propagate to other panels.

Select the rest of the panels in the series. Note that the name of the layer you want to change must be same in all the selected panels.
Select Layer > Copy Layers.
NOTE To quickly select multiple panels, select the first panel and Shift+click the last one in the series. Use the Thumbnails view.
Select Layer > Paste Layer Special. This command is only available when multiple panels are selected.
The Paste Layer Special dialog box opens.
Select the Once Hold and Overwrite Existing Layers options.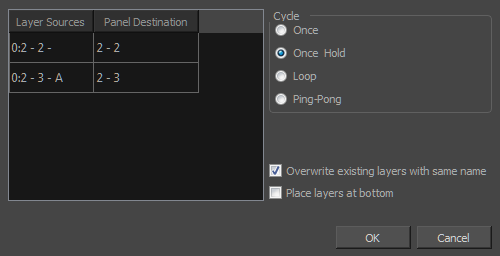 The layer in each of the selected panels is replaced.

The other available options are as follows:

Once: This will paste the layer or drawing on the second panel for once only.

Once Hold: This will paste the layer or drawing on all the selected panels.

Loop: This will run a loop or cycle until one sequence of layers is completed.

Ping-Pong: This is similar to loop and will run a cycle but in a ping pong pattern.

NOTE If you only need to make a change to two panels, you can simply drag the layer from one panel and drop it in the Layers list of the other panel, and click replace.