Adding Sketch Captions
Alongside text captions, you can also add sketch captions to your panels.
Sketch captions are special caption fields in which you can draw. You can use any drawing tool in a Sketch caption. You can use this to add drawn annotations to your panels.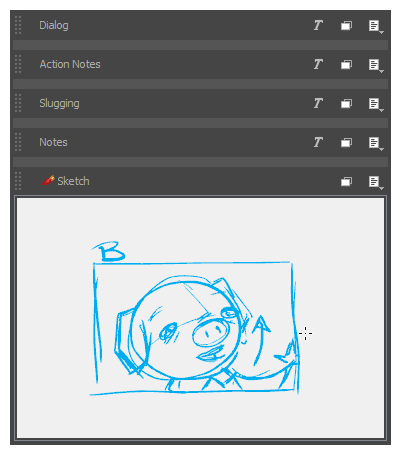 Like other panel captions, sketch captions are specific to each panel. However, contrary to text caption fields, sketch caption fields are not added to your project. They are added to a panel.
This means that, if you add a sketch caption field to a single panel, you will not have a sketch caption field for any other panel in your project. You must manually add sketch caption fields to each panel in which you want to add a sketch caption.

How to add a sketch caption field to a panel
In the Thumbnails view or Timeline view, select the panel to which you want to add a sketch caption field.
Open the Panel view.
Do one of the following:

In the Panel view, click the Menu button above a caption field and select

Add Sketch

.
In the top menu, Select

Caption > Add Sketch to Current Panel

.
The Choose Field Name dialog box opens.
Type a name for the Sketch caption field and click OK.
The Sketch field appears below the existing caption.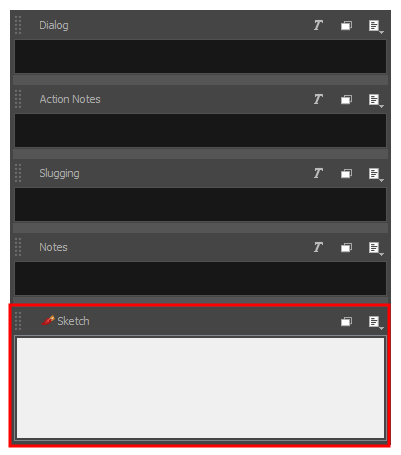 How to draw in a sketch caption field
In the Tools toolbar, select the drawing tool you want to sketch with.
In the Colour view, select the colour you want to draw your sketch with.

Just above the sketch caption field, click on the Expand / Collapse button to expand the sketch caption field and collapse the other caption fields.

In the Sketch caption field, start drawing just like you would in the Stage or Camera view.