Filling Empty Cells
You can automatically fill gaps between exposures using the Fill Empty Cells command. This will extend the exposure of cell exposed right before the gap until the end of the gap.

How to fill empty cells
In the Timeline or Xsheet view, select a cell range.

Do one of the following:
Right-click and select Exposure > Fill Empty Cells.
From the top menu, select

Animation > Cell > Fill Empty Cells

.
In the Timeline toolbar, click the Fill Empty Cells button.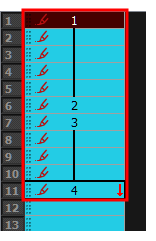 Each drawing in the selection is exposed in the range of empty cells that follow it.