Using the Scale Tool
You scan use the Scale tool to squash, stretch, and resize your elements.

How to use the Scale tool
In the Tools toolbar, if Animate Current Frame or Animate Onion Skin Range mode is enabled, click on it to open the Animate pop-up menu and select Animate Off.
Do one of the following:
From the top menu, select

Animation > Tools > Scale

.
In the Advanced Animation toolbar, click the Scale tool.
Press

Alt + 4

.
In the Camera view,

Ctrl + click (Windows/Linux) or ⌘ + click (macOS)

to select your element.
Pull or push either on the side, top or corner control point. Hold down

Shift

to lock the selection's ratio when using the corner control points.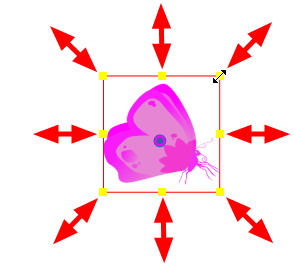 You can select multiple layers at the same time. Press

Ctrl + Shift + click (Windows/Linux) or ⌘ + Shift + click (macOS)

on each element to select them.