Adding Backdrops
T-RIG-008-002
You can add colourful backdrop to organize your nodes and group parts of your cut-out characters.

How to add a backdrop
In the Node view, do one of the following:
Select the nodes to include in the backdrop.
Click anywhere in the Node view to deselect any selected items.
From the Node View menu, select Insert > Backdrop.
If you selected nodes, a red backdrop displays around the nodes you selected.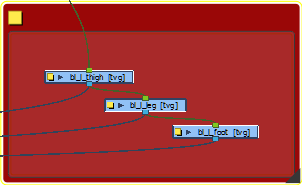 If you did not select anything, a red backdrop displays in the Node view.