Rendering from Write Nodes
Once your Write nodes are properly set up, you can render them using the Render Write Nodes dialog.

How to render the scene's Write nodes
The Render Write Nodes dialog appears.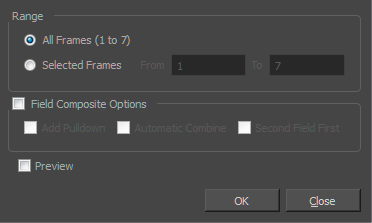 NOTE
If you are using
Harmony Server
, the Render Write Nodes dialog will have a
Batch Composite Options
section. Enabling this option will send your scene to batch rendering instead of rendering it locally. Simply disable this option and follow the steps below. For information on how to use Batch Composite Options, see
Batch Rendering
.
In the Range section, select the frame range to render by doing one of the following:
If you want to render all the frames in your scene, select All Frames.
If you want to render a specific sequence of frames, select Selected Frames then, in the fields to the right, enter the number of the first and last frame of the frame sequence you wish to render.
If your production is intended for broadcasting on NTSC compatible televisions, enable Field Composite Options.
To export a scene animated at 24 frames per second in 60 frames per second so that the frames can be combined with the 3:2 pulldown technique, enable the Add Pulldown option.
If you want

Harmony

to automatically interlace the exported frames to create a 30 frames per second sequence, enable the Automatic Combine option.
By default, odd frames are interlaced on the first field (odd lines), and even frames are interlaced on the second field (even lines). If you wish to interlace odd frames on the second field and even frames on the first field, enable the Second Field First option.
Enable the Preview option to automatically preview the exported image sequence in

Play

once the render is done.
Click OK.
Harmony begins rendering the scene's Write nodes.
If you enabled the Preview option, the exported images will load in Play once the render is done. You can user Play to play the image sequence with the scene's soundtrack.