Exporting Image Sequences from the Node View
To export an image sequence, you must to adjust a few settings in the Write node's properties. The most important one is the Drawing Type parameter, which determines the image format in which individual frames are exported.

How to configure the Write node to export an image sequence
In the Node view, open the Write node's editor by clicking its square yellow properties button.
In the Output tab, select the Drawing option to create an image sequence.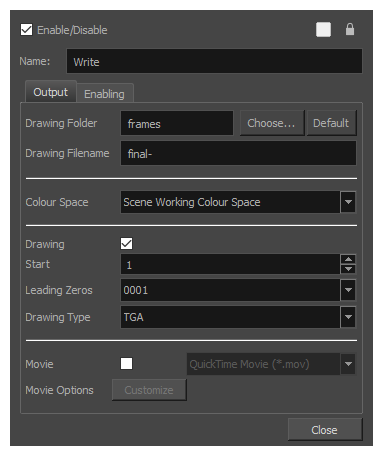 Click Choose and browse to the directory where you want to save the output. You can also type in a directory name, which will be created in your scene's directory, or click on Default to export your frames in your scene's frames subdirectory.
In the Drawing Filename field, type the image sequence's name prefix. It is recommended to leave the hyphen (-) at the end of the name to separate the image name from the image number.

In the Colour Space drop-down, select the colour space in which you want the rendered frames to be exported—see About Colour Space Management.
In the Start field, select the starting number for the image sequence.

In the Leading Zeros field, select the number of digits you want to see after the sequence prefix.
In the Drawing Type field, select the file format in which your project will output.

NOTES

A lot of formats are listed as their file extension, but some also have suffixes to indicate how they are encoded. For example, PNGDP4 means PNG: double precision with 4 channels, which means the exported PNG images will have 16 bits per channel instead of 8 bits, and will also have an alpha (transparency) channel.
For more information on supported export formats, see Write Node.
Click Close.

NOTE The project will not start rendering at this point. This step only configures how your scene will be rendered.