Renaming a Library View Category
You can rename a Node Library view category to keep it organized.

How to rename categories
From the Category list, select a category to rename.
Do one of the following:
From the Node Library menu, select Rename Category.
Right-click in the category area and select Rename Category.
The Confirm Rename Category window displays.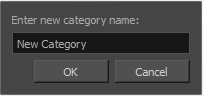 Type in a new name for the category and click OK.