Adding Drawing Guides
T-LAY-001A-002
The first step in using drawing guides is to add a guide to the scene's guides list.

How to add a drawing guide to your scene
In the Tools toolbar, select either the Brush, Pencil, Stroke or Line tool.

NOTE Drawing guides are only visible in the Camera or Drawing view when one of these tools is selected.
Add the Guide view to your workspace by doing one of the following:

In the top-right corner of any view in your workspace, click on the Add View button and select Guides.
In the top menu, select Windows > Guides.

In the Guides view, click on the New Guide button and choose one of the following types of guides:

Ruler
Square Grid
Isometric Perspective
1-Point Perspective
2-Point Perspective
3-Point Perspective (Bird's-Eye View)
3-Point Perspective (Worm's-Eye View)
3-Point Perspective (Horizontal Pan)
3-Point Perspective (Vertical Pan)
4-Point Continuous Perspective
4-Point Perspective (Vertical Pan)
5-Point Perspective (Fisheye)
The new guide appears in the guides list.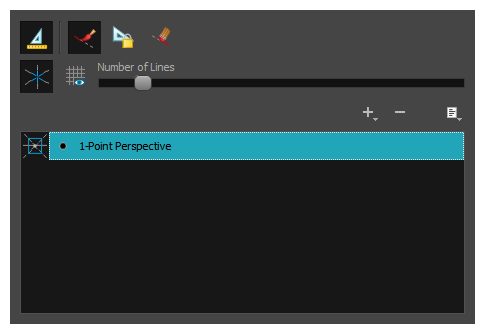 NOTES
Adding a guide automatically toggles the Enable Guides option on, and automatically toggles the Lock Guides option off, so that you can immediately view and adjust your new guide.
Your new guide will come in a preset position with preset parameters. To make adjustments to your guide, see Editing Drawing Guides.