Creating Additional Deformation Chains for Multi-pose Rigs
The second step to creating a multi-pose rig is to create additional chains. after the creation of the main chain.

How to create additional deformation chains
In the Timeline view, move the playhead (current frame) to the character's next position.
In the Node or Timeline view, select the drawing you want to set a new deformation chain (transformation chain) for. If you had previously selected the upper arm in a multiple parts arm structure, select the same drawing layer (upper arm).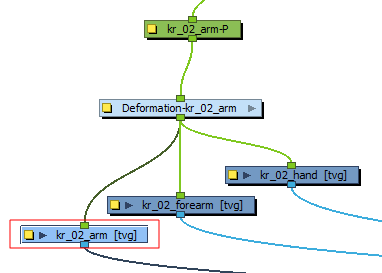 In the Deformation toolbar, click the Create New Deformation Chain button.
A new deformation chain is created and appears in the Transformation Chain drop-down list.

In the Deformation toolbar, select the Rigging tool.
Create your new deformer structure—see About Creating Deformations.