Selecting Parent and Children
When animating, large movements that are made at the root (parent) of a chain cause secondary movements throughout the rest (children) of the chain. For example, when you rotate the arm of a character from the shoulder, the forearm and hand will follow. However, in order to make the movement appear natural and graceful, the forearm and hand should not move at the same speed or angle. As a result, animators often need to move up and down a chain, intermittently selecting parent and children, in order to make both large and fine movements.

How to select the parent or child of the selected layer
In the Tools toolbar, select the Transform tool.
In the Transform Tool Properties view, make sure the Peg Selection mode is deselected.
In the Camera or Timeline view, select a layer or object attached to a hierarchy.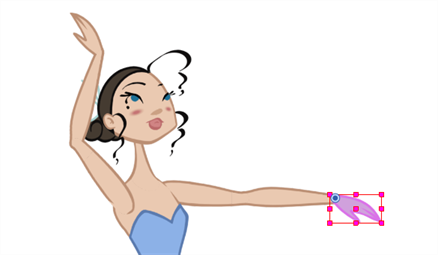 Do one of the following:

Select

Animation > Select Parent

or press

B

to select the parent layer.
Select

Animation > Select Child

or press

Shift + B

to select the child layer.
Select

Animation > Select Children

to select all child layers at the same time.
NOTE When going up or down your node hierarchy, these keyboard shortcuts skip any effect node in the hierarchy and only select either peg or drawing nodes. This is because these shortcuts are optimized for cut-out animation. In the Keyboard Shortcuts dialog, under the General section, these shortcuts are named Select Parent Skipping Effects and Select Child Skipping Effects. If you want to use keyboard shortcuts to navigate the hierarchy without skipping effect nodes, you can assign custom keyboard shortcuts for the Select Parent and Select Child commands instead.