Reducing the Drawing Texture Resolution

How to reduce the drawing texture resolution
In the Tools toolbar, select the Select tool.
In the Drawing view, use the Select tool to select the drawing objects whose texture resolution you wan to reduce.
From the top menu, select

Drawing

> Optimize >

Reduce Drawing Texture Resolution.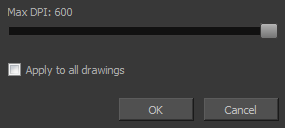 In the dialog box, drag the slider toward the left to reduce the texture resolution.
Enable the Apply to All Drawings option if you want the modification to be applied to all the drawings in your layer.
Click OK.