Renaming Drawings
T-HFND-005-003
To rename a drawing, you need to select the drawing cell and use the Rename Drawing command.
You can also rename a series of drawings relative to their frame position, which is useful in hand-drawn animation.

How to rename a drawing
In the Timeline or Xsheet view, select the drawing to rename.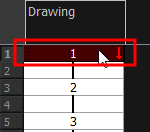 Do one of the following:
Right-click and select

Drawings > Rename Drawing

.
In the Timeline toolbar, click the Rename Drawing button (you may have to customize the toolbar to display it).
Press

Ctrl + D (Windows/Linux) or ⌘ + D (macOS)

.
The Rename Drawing dialog box opens.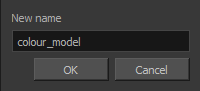 In the New Name field, type in the new drawing name.