Filling a Selection with a Specific Exposure
You can fill a selection with the same drawing using the Fill Selection dialog box. You can fill a selection of a single drawing, several drawings or even several columns.

How to fill a selection with a specific exposure
In the Timeline or Xsheet view, select a cell range.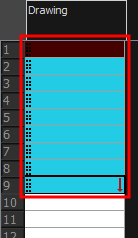 Do one of the following:
From the top menu, select

Animation > Cell >

Fill Selection

.
Press

Ctrl + T (Windows/Linux) or ⌘ + T (macOS)

).
The Fill Selection dialog box opens.

In the Value field, type the desired value.
To insert a key exposure in the frame following the last cell in the selection, select the Add Key Exposure After option. Otherwise, leave it deselected.
Click OK.