Renaming a Brush Preset
To keep your list comprehensive and organized, you can name your custom brush presets.

How to rename a brush preset
In the Tools toolbar, select the Brush tool or press

Alt + B

.
In the Tool Properties view, select a brush preset to rename.
Open the Brush Preset menu and select Rename Brush.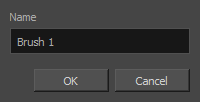 Type in a new name for the brush and click OK.