Creating Vector Shapes with the Polyline Tool
You can use the Polyline tool to draw complex segmented lines or curved lines by creating each point constituting the line.

How to draw with the Polyline tool
In the Timeline view, select the cell on which you want to draw.

In the Tools toolbar, select the Polyline tool or press

Alt + _

.
In the Camera or Drawing view, do one of the following:

Click to create a point with no Bezier handles.
Click and drag to create a point and its Bezier handles in the same stroke.

TIP

While dragging to create a Bezier handle, you can:

Hold the

Alt

key to only change the angle of the outer handle, and leave the inner handle at its current angle.
Hold the

Shift

key to lock the angle of the handle at every 15 degrees.
Click or click and drag somewhere else to create the second point in your line. A line will be drawn between the first point and the second point.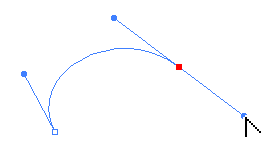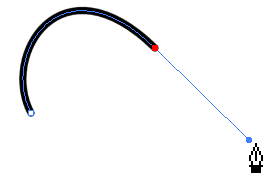 Repeat the previous step until your line is complete.
While holding

Ctrl (Windows/Linux) or ⌘ (macOS)

, click anywhere in the drawing space to release the Polyline tool from the line you've been building. You can then start building a new line.
If you want to make adjustments to the line you created, you can use the Contour Editor tool—see Reshaping a Shape, Pencil Line or Stroke with the Contour Editor Tool.