Creating an Exposure Sequence
You can quickly create a sequence with a gesture by holding the Shift key while extending an exposure, or use the Sequence Fill dialog box to create a custom sequence within your selection. While the former is faster, the latter allows you to determine your sequence's hold and increment, to create a backward sequence or to configure it in multiple other ways.

How to extend an exposure to create a sequence
In the Xsheet view, select a cell containing a number.
In the selected cell, click the red arrow on the cell's right side. Make sure to see the drag down cursor.

Hold down the

Shift

key. Make sure a plus sign (+) appears.
Pull down the selection box to the desired frame.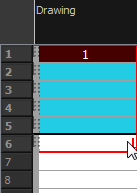 NOTE The red selection box must be visible when releasing the cursor. If not, the action is considered cancelled.
First release the

Shift

key, then release the mouse button.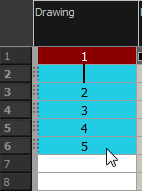 How to fill a selection with a sequence
In the Timeline or Xsheet view, select a cell range.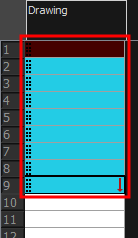 Do one of the following:
From the top menu, select

Animation > Cell >

Sequence Fill

.
In the Timeline view, right-click and select Exposure > Sequence Fill.
In the Xsheet toolbar, click the Sequence Fill button (you may have to customize the toolbar to display it).
Press

Ctrl + M (Windows/Linux) or ⌘ + M (macOS)

).
The Sequence Fill dialog box opens.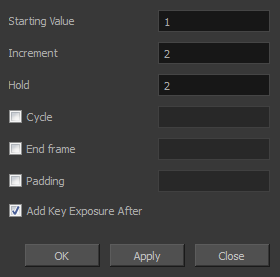 In the Starting Value field, type the first number in the sequence.
In the Increment field, type the number by which the drawing number will increase from frame to frame. For example, an increment of 1 gives you:

1-2-3-4

; an increment of 2 gives you:

1-3-5-7

; and -2 gives you this:

8-6-4-2

.