Saving a Scene in
Harmony Server
The first time you save a scene in Harmony Server, you will be prompted to create a first scene version. Once the scene has at least one scene version, you can instantly save to that version every time you make changes to your scene.

How to save the first version of a scene in

Harmony Server
Make sure you have the necessary rights to save the current scene version. If you do not, you can acquire the rights by selecting

File > Rights to Modify Scene Version

or

Rights to Modify Scene

in the top menu.
Do one of the following:

In the top menu, select

File > Save

.
In the File toolbar, click on the Save button.
Press

Ctrl + S (Windows/Linux) or ⌘ + S (macOS)

.
When saving the scene for the first time, the Save dialog box opens, prompting you to name the version.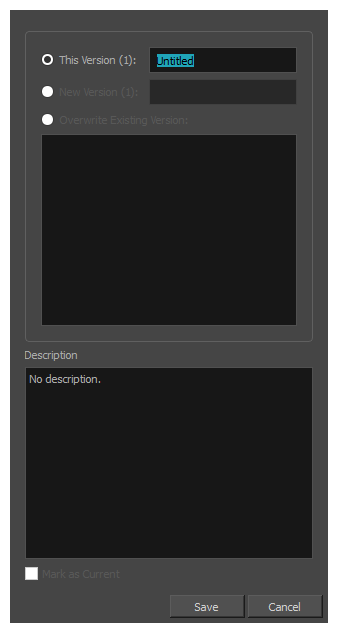 In the This Version field, enter a relevant name for the current version.
In the Description field, if you want, you can enter a short description of the current version.
Click on Save.