Adding Frames at the Beginning of a Scene
You can add frames at the beginning of your scene using the Add Frames at Start dialog. All of your scene's animation will be offset by the amount of frames you added.

How to add frames at the start or end of a scene
In the top menu, select Scene > Frames > Add Frames at Start.
The Add Frames dialog box opens.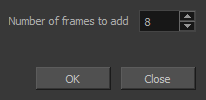 In the Number of Frames to Add field, enter the number of frames needed in the scene.
Click OK.